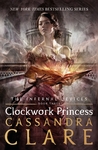 Clockwork Princess
by
Cassandra Clare
My rating:
3 of 5 stars
I've officially finished the series, but I don't know how I feel about it. Maybe I need to read the other series to figure out my feelings.
I was okay with the book until close to the end. The ending went downhill for me. It didn't seem to fit with the rest of the story. There were some gasp worthy moments throughout the book, so I feel that it is worth the read.
I think I'm going to wait until I've read the other series before giving a final judgement.
View all my reviews