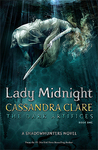 Lady Midnight
by
Cassandra Clare
My rating:
3 of 5 stars
After reading the previous series by Cassandra Clare, I have to admit, I had a hard time caring about the characters. It's hard to get used to new characters when you are in the same world as the old ones, and in a time line close enough that the old ones are still around. I did enjoy the little moments where they showed up, but it just left me wanting more.
I do like the fact that it brought up an interesting concept that wasn't really considered before. Of course, with the way this world works, there are rules that make it wrong, but personally, I'm all for it.
I also like the fact that the line between friend and foe was blurred. I'm not a fan of books where there is a clear distinction between good and bad. No one is pure good or pure evil. We are all a little of both, and this book shows that. It also shows just how much our choices can affect the lives of others, even long after we are gone.
All in all a good book, I just really miss the old characters from the previous two series.
Author: Cassandra Clare
Publisher: Margaret K. McElderry Books
Publication Date: March 8th 2016
View all my reviews